True orthodontic emergencies are rare, but when they occur we are available to you. As a general rule, you should call our office to schedule an emergency appointment when you experience severe pain or have a painful appliance problem you can't take care of yourself. If an orthodontic emergency arises outside of office hours or on the weekend, please don't hesitate to still contact our office where Dr. Wilke or an on-call staff will be available to help.
You might be surprised to learn that you may be able to solve many problems yourself temporarily until you can get to our office. After alleviating your discomfort, it is very important that you still call our office as soon as possible to schedule a time to professionally repair the problem. Allowing your appliance to remain damaged for an extended period of time may result in disruptions to your treatment plan. Some typical issues orthodontic treatment can give rise to include:
---
General Soreness
After getting braces on or a wire changed, you may feel general soreness in your mouth and your teeth may be tender to biting pressures for three to five days. It is advised to stick to soft foods and cold foods such as ice water, ice cream, pudding, or mashed potatoes until tenderness disappears. It is also normal for the lips, cheeks, and tongue to become irritated within the first two weeks as they toughen and become accustomed to the braces. We supply wax that you can apply to the braces in irritated areas to lessen this discomfort.
Irritated gums and other sore spots can be relieved by rinsing your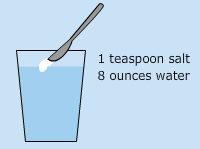 mouth with a warm salt-water mouthwash. Dissolve one teaspoonful of salt in eight ounces of warm water, and rinse your mouth vigorously. You can also take Advil, Tylenol, or whatever you take for a headache to alleviate some of the discomfort.
Loose Appliance
Don't be alarmed if a bracket comes off of the tooth as this happens occasionally. Make sure to call our office to determine if an emergency appointment is needed. Depending on the location and function of the loose bracket you may be able to wait until the next scheduled appointment to glue the bracket back on the tooth, or you may be advised to schedule an emergency appointment to make sure treatment is kept on track.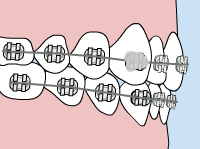 Poking Wire
If a wire is poking, you can use a blunt instrument such as the eraser end of a pencil to carefully push the wire back. If irritation continues or you are unable to put the wire back, place wax on the poking wire to reduce contact and call our office to schedule an appointment as soon as possible. You can also attempt to trim the end of the wire using a fingernail clipper, but use caution to not let the cut wire fall into the patient's mouth.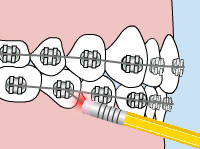 Direct Injuries to the Mouth
Immediately ice the injured area
Contact your general dentist as soon as possible. It is best to contact your general dentist first since we may not have the necessary materials or anesthesia required to treat these injuries. If appliances are dislodged, we will need to replace or adjust the appliances as soon as possible after you have seen your general dentist.